Lessons From CLOD Live Motivational Presentation
Experience Jeff Hanson's amazing story LIVE for your next event!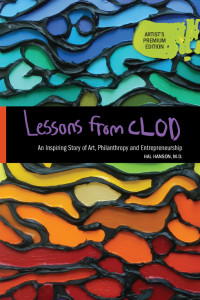 You and your guests will enjoy meeting the visually-impaired artist, Jeffrey Owen Hanson, accompanied by his parents, Hal and Julie. And they will be riveted by Jeff's inspirational story in a one hour, multimedia presentation.  Speaking live before a magnificent video/music backdrop, Jeff and his parents reveal what Jeff's brain tumor (named CLOD) taught them about art, philanthropy, and entrepreneurship, during their journey through adversity.
Experience goosebumps, tears, and smiles as the Hanson's discuss lessons learned from CLOD:
Don't let your CLOD define you.
Generosity begets generosity.
Find a purpose.
A powerful, motivational presentation for any audience, the program encourages generosity, philanthropy, corporate giving, and inspires anyone suffering adversity, illness or hardship.
A hardbound, full-color book, Lessons From CLOD, authored by Jeff's father, Hal Hanson, MD, is also available for attendees of your event.
Lessons From CLOD is not simply a keynote speech or lecture, it is an uplifting, motivational, multimedia experience.
The technical production is designed for larger venues, requiring HD projection and superior sound systems.  It is intended for conventions and corporate events, and cannot be produced for small groups. However, you can contact us for personal appearances at other events.