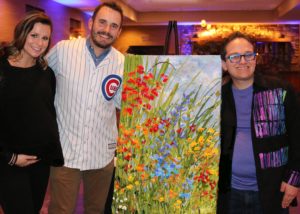 Jeff Hanson, a 24-year-old visually impaired artist who has a goal of raising $10 million for children's charities by age 30, is much closer to his goal after raising $100,000 in November.
"We are beyond excited that Jeff's work is helping so many great causes," said Julie Hanson, mother and manager.  "His work is amazing, but his heart is truly remarkable."
November, 2017 Fundraising
On Thanksgiving Eve, Jeff's painting at Festival of Trees raised $43,000 for Blank Children's Hospital in Des Moines, IA.  On November 4, his artwork generated $27,000 at the Dream Big Gala for the Michael Mosier Defeat DIPG Foundation in Bethesda, MD.  And on November 17, Jeff's Meet Me in the Med painting raised $30,000 for Sammy's Superheroes Foundation's "Superheroes Gala," hosted by The Brian Duensing Foundation, in Omaha, NE.
Jeff Hanson Art – The Beginning
Jeff Hanson, visually impaired since childhood from neurofibromatosis and an optic chiasm brain tumor (playfully named CLOD), started painting watercolor notecards while undergoing chemotherapy at age 12. What began as a pastime and distraction from his treatments, Jeff's painting soon evolved into a curbside business, Jeff's Bistro.  Proceeds benefitted the Children's Tumor Foundation to fund optic tumor research.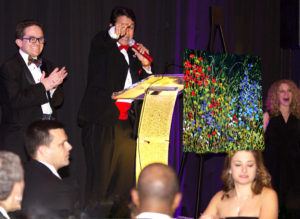 Self-taught as an artist, Jeff's original notecards gradually transitioned to acrylics on canvas, both for sale and gifts to charity live auctions across the nation. At age 15, the "accidental artist" grew his business into Jeffrey Owen Hanson LLC – a business with a philanthropy-first philosophy.
Jeff received national attention for raising $1 million for charity with his art by age 20.  As of today, he has raised $3 million.  While Jeff enjoys a very successful career as an artist, his philanthropic spirit has resulted in more than 220 non-profit organizations benefiting from his auctioned works.
Jeff's Accolades
Jeff has been awarded both Young Philanthropist of the Year and Young Entrepreneur of the Year for his efforts. He was a People magazine's "Hero Among Us" and appeared on CNN's "Impact Your World." In 2015, Hanson was honored by The NASCAR Foundation with the Betty Jane France Humanitarian Award and his inspirational story was profiled on CBS Sunday Morning.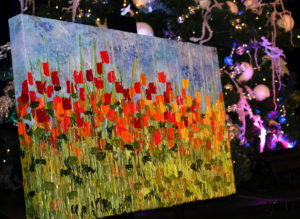 Jeff's paintings now hang in the homes of art collectors across the globe, including Sir Elton John, Warren E. Buffett, John Cena, Dale Earnhardt, Jr., Chicago Cubs' Brian Duensing and many others touched by Jeff's generous soul and unique style.
"Art may be my career, but philanthropy is my passion," Jeff Hanson said.  "I don't want others to be defined by their illness or challenge.  Focus on what you CAN do, not what you CAN'T do!"
Jeff Hanson has become defined by art, philanthropy and entrepreneurship. Not by CLOD. Not the kid who lost his vision to a brain tumor.  For more information on Jeff's inspiring story, visit www.JeffHansonArt.com.